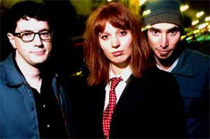 THE FLIPSIDES
"The Best of Times"
Music by The Flipsides. Artwork by Mark DeSalvo
Years Active:
1999 - 2004
For those of you who've never heard of The Flipsides, I don't blame you. They were short-lived, and definitely underappreciated, but those who did hear them, noticed them.
I first became aware of the Flipsides in San Diego in the summer of 2002. FAT had sent me a copy of Clever One along with some material to promote the band. "Wow," I thought to myself as I played the album all the through and soaking in all the melodies. "Where did this band come from?" The songs had this power-pop quality to them, with some 60s rock undertones, and a hint of Elvis Costello, and that suited me perfectly. Clever One was in constant rotation in my car for months after, and I made it my mission to spread the word on this band. Unfortunately, no one I mentioned them to, knew who I was talking about. That is, until the year after when I was in New York talking to Kitty from The Kowalskis.
"Yeah, that album is great, but their demo is even better," she told me.
"Demo? What demo?" I asked.
"They had this EP before their full length that has a lot of the same songs. It sounds way better; the drums especially," she said. "Sabrina is a great girl too. You should meet her."
I was immediately intrigued, and when The Flipsides were in San Diego, I made sure to check them out, and introduce myself to Sabrina. Kitty was right, she's a sweetheart.
"Any chance of finding that demo EP somewhere?" I asked her.
"No... that's long out of print. I don't think there are plans to repress it either," said Sabrina. "All it has, for the most part, are songs that are on Clever One, anyway."
Of course, this saddened me, but I accepted the fact.
Years go by, I move to Pennsylvania, and Sabrina and I stay friends. Red Sound Records is getting off the ground, and I wonder to Sabrina:
"Hey, what about that Flipsides demo I was asking you about years ago?"
The rest is history.
If you've had a chance to hear the Flipsides, this demo plays like a 'best of' from Clever One, and sonically, it is indeed superior, in my opinion. Adding to the mix are a lost song, and a song from the Every Dog Will Have Its Day compilation on Adeline, and long lost artwork from Mark Desalvo (which was intended for the full length), and you have a completist's dream.
And for those of you who haven't heard The Flipsides yet, well all I can say is that you're in for a treat.
Many of these songs were later rerecorded for the Flipsides' proper Full Length Clever One on Fat Wreck available here
Since The Flipsides, Sabrina has released a solo effort (available here), and now focuses on her new project Pearl Starbird.